Do you wake in the morning with sore jaws?
When you bite, do you feel like your jaw is lopsided? Do you have tenderness in your jaw muscles?
If so, then you may need an occlusal adjustment.
Patients with loose or shifting teeth will many times not meet correctly. Patients, who grind or clench their teeth, will have an uneven bite and pressure distribution in the mouth, which is also corrected through an occlusal adjustment. Sometimes tooth sensitivity can be corrected through an occlusal adjustment as the treatment reduces pressure on the sensitive tooth.

An occlusal adjustment corrects the alignment of the bite and results in an evenly distributed bite that eliminates irregular pressure on one side of the mouth. Once your bite is adjusted, your teeth will meet properly.
The pictures below show the damage an out of balance bite can cause. The damage can be treated, however the cause needs to be treated or the grooves will re-occur below the bonding.
Before: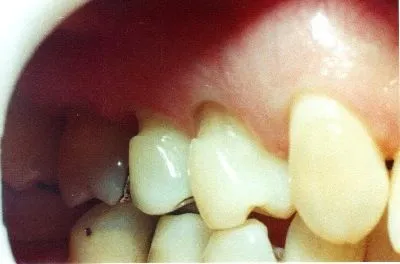 After: